SWP v.4. and MySWP are now live and available to RailHub subscribers
SWP has seen its biggest update EVER!
We are proud to release SWP v4 – the most modern, easy-to-use, and compliant Safe Work Pack planning system.
This is complemented by MySWP, our brand-new tablet app for both Android and iOS. Our team has worked tirelessly with our partners in rail to create a safe work planning system tailored to the complex needs of the industry. Work can now be planned in a safer, more accessible, and more productive way than ever before.
A New and Innovative Safe Work Pack Solution – SWP v4
A selection of exciting new features in SWP v4 include:
A new and improved User Dashboard, with a clear one-page view of tasks and activities to be completed. The most urgent activities are highlighted, so your time and attention can be focused on what matters most.
A Simplified Pack Creation Workflow. We have reduced the number of steps needed to create a safe work pack from 16 to 7.
Introduction of 'Components', allowing Planners to assign up to 10 x SSoWs per shift. Introduced following user feedback, 'Components' aim to maximise productivity, whilst removing common pain points around repeat tasks and unnecessary effort.
Enhanced Reporting with powerful new features to improve safety, reinforce quality, and to support your business. If you need bespoke reports, we can build them for you! Optional extra reports are also available.
A responsive and fully accessible User Interface to get you started quickly and easily. SWP v.4. has been designed to render across desktops, laptops, tablets, and mobile phones. The new design meets accessibility standards. Spacing, colours, and fonts meet the diverse needs of our user community. Both 'light' and 'dark' modes support working in all surroundings.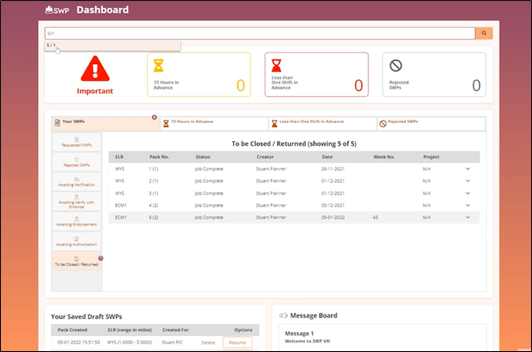 Our brand-new home dashboard
  SWP v.4. remains in full compliance with Standard 019 (NR/L2/OHS/019) Issue 12. With a RailHub subscription, you have peace of mind that you will always remain compliant with industry standards.

Powerful BI Reporting (Enhanced)
MySWP: for all your trackside needs
We are also delighted to release our new MySWP tablet application, for both Android and iPadOS devices. MySWP replaces our ePIC tablet apps and helps to deliver the benefits of SWP v4 from the office to the front line.
Supporting a paperless, electronic, end-to-end workflow, MySWP is designed for ease of use in challenging trackside and off-lineside conditions. On-site processes can be completed without the need for expensive, risky, and inefficient pieces of paper passed between your team.
The days of damaged, missing, and lost paperwork are over. MySWP allows your workforce to be briefed clearly and in compliance to standards, whilst simultaneously relaying real-time data back to the office or van at site.  By collecting an electronic record of work, insights can be gained through the dynamic reporting functionality built into SWP v4.
Can I give this a try?
Both SWP v4 and MySWP are available with a RailHub subscription. If you're not currently a RailHub subscriber and would like more information, please register your interest below.
About OnTrac
We are proud to have supported the industry for over a decade. Serving our users is at the heart of everything we do. In today's challenging economy, workforce safety, productivity, and management of costs are more important than ever.
With OnTrac you can have confidence that you remain compliant, whilst ensuring that your most important assets – your people – remain safe.