Increasing numbers of rail suppliers are adopting and embracing the digital technology that's 'disrupting' the industry.
The digital revolution has fundamentally changed our industries. New and disruptive technologies are being developed at such a rapid pace, infiltrating into our societies and businesses. The rail industry is no exception; it's increasingly turning to mobile and digital technology to overcome operational and occupational challenges. Network Rail has been a tech trailblazer for the sector; the organisation recently allocated £180 million as part of CP6 towards its Digital Railway Programme, which proves just how intrinsic they see technology being to the future of rail.
The path to transition for many rail companies lies with adoption of mobile technology. Smartphones have fuelled the transition to digital across all industries, transforming the way we communicate, collaborate, and work. Today, mobile devices generate 51.53% of global website traffic, and that figure is continuing to grow. This hasn't gone unnoticed by rail businesses; it's estimated over the next 5 years more than 100,000 apps will need to be created for rail alone. 
As well as mobile apps, the Internet of Things (IoT) is increasingly being used to bring together networks of objects, data, processes and humans using online devices and software, enabling continuous connectivity. More recently, we've seen the emergence of Industry 4.0 and the Industrial Internet of Things (IIoT), which use real-time data exchange to reduce overall operational costs and improve performance and capacity.
So how can these disruptive technologies be harnessed for the rail industry, and what are the benefits?
Communication in real-time
It's crucial to have a clear and constant flow of communication between rail workers. Rail sites are fast-changing environments, and these changes can mean the difference between a safe and an unsafe situation. It's therefore imperative that everyone involved is kept up to date not just from a productivity but a safety standpoint. This is made difficult when manually filling out and distributing physical forms. The introduction of BYOD (bring your own device) on rail sites was a game-changer – mobile devices enable real-time communication between workers both on the front line and in the back office, which was impossible before. No matter where a worker is on the line, mobile technology means they can be updated or alerted to dangers when it matters most. 
Mobile apps are greatly beneficial in terms of admin. Having all critical documents saved in one accessible app means wet signatures, lost forms, and input errors are no longer an issue. The information can get to the right person instantly and be signed off with ease.
Rail passenger experience

Mobile apps haven't only had a positive impact on the rail workers, they've also been beneficial for rail passengers. Rail organizations are using innovative solutions to improve how they engage with their passengers and improve their journey experience. For example, digital technologies let rail customers identify the best time of day – such as off-peak times – for the most economical fare, and make their selection online or via mobile apps.
It's also made the ticketing process easier; with mobile ticketing, passengers can tap in and out using their phones. No more waiting in long lines or potentially losing your paper-based tickets. These e-tickets also link up with relevant rail service notifications; the system can notify via text or email during the day if there is a network disruption. If it's going to be a longer delay, the system can even send passengers suggestions for alternate routes and give them a percentage-based credit to their account. 
If there is a change of track whilst in the station, instead of depending on older, often hard-to-hear PA systems, passengers can receive texts that inform them of the track change as soon as it's known, giving them enough time to react and make their way to the new track.
Maintenance predicting
Despite all of the recent purchases of new train fleets, the average age of the national train fleet is still nearly 20 years old. Any breakdowns when in service could be costly in terms of time, reputation, money and experience of the engineering staff, who may be not as familiar with the nuances of older rolling stock, so ensuring trains remain fully functioning is critical. Engineers have typically relied on their engineering knowledge to arrive at timescales when building a Risk-based Maintenance Regime, but too often this involves making assumptions. 
Digital data processing is revolutionizing the maintenance of infrastructure and rolling stock. The use of RCM (Remote Condition Monitoring) can efficiently track and monitor collected data, which can be instantly analysed to inform future maintenance work. This allows engineers to see earlier what condition the track asset is in and the speed of degradation, therefore act earlier to correct issues before it becomes a major fault – this ensures that maintenance is only carried out when necessary, keeping costs down.
Digital signalling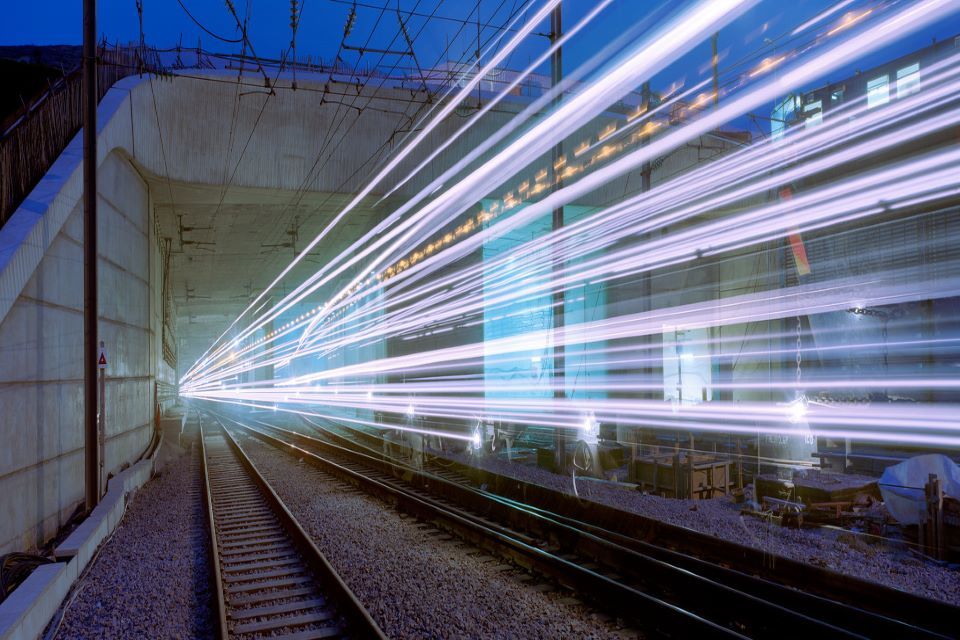 Two-thirds of the rail network's signalling system will need replacing in the next 15 years.The current technology used across the rail network can struggle to recover swiftly following disruption with a small delay on one part of the railway still causing knock-on delays hundreds of miles away on other parts of the network, many hours later.
Digital signalling has the capacity to slash train delays as well as improve safety. The European Rail Traffic Management System (ERTMS) is a digital signalling and speed control system that ensures interoperability of the national railway systems. It works via wireless technology attached to the train and the track that digitally 'talk' to each other. This constantly updates the driver on the whereabouts of other trains and whether or not there is space to safely proceed. It also reduces the purchasing and maintenance costs of the signalling systems, increases the speed of trains, the capacity of infrastructure and the level of safety in rail transport. 
This revolutionary technology provides signalling with better, real-time information about train movements, enabling them to communicate with train drivers continuously to reduce the impact of delays. This 'in-cab' system means an end to conventional signalling at the side of tracks – train drivers have all the signalling information at their fingertips.
Safer rail work
The concept of risk, operative health and rail safety needs to be rigorously managed within the heavily regulated rail industry. The exponential increase in rail passengers over the past 20 years have naturally resulted in an increased need to monitor safety, for both the passengers and the workers. Even so, reports reveal the industry is coming up short. In the 2018/19 period, there were 205,000 close calls reported by Network Rail – over 50,000 more than had been forecast.
The primary function of the smartphone is communication, which in turn, is the fundamental cornerstone of safety. As the industry strives for a more collaborative approach to rail safety, digitising its processes using smartphones offers a clearer view of the workforce, and what is needed to ensure rail safety procedures are being followed and implemented correctly on site.
Similarly, from the perspective of rail's workforce, having core processes available on an app-based platform makes it far easier to engage with, and adhere to industry standards and good practices from anywhere in the network.
Not to mention digitising rail processes creates vital data, saved instantly to the cloud, which can be analysed and inform future rail work to ensure it is carried out in the safest possible manner. The rail industry is notoriously information rich, however it's the analysing of and learning from this information that is lacking. Technology makes it easier than ever to detect patterns of unsafe behaviours so they can be tackled. 
Conclusion
Disruptive technology is changing the rail sector's traditional processes and providing the opportunity to connect customers, operators, trains, and infrastructure. Digital solutions hold the key to a range of benefits for various stakeholders; from a manufacturer to train operator to passenger. It's time for the whole rail industry to embrace the disruptive technology that's colouring the world we live in and harness the multiple benefits it can bring.
---

Interested in digitally transforming your rail processes? Book a demo to see our RailHub products in action